Industries Minister KT Rama Rao appeals to UAE to release five Telangana NRIs.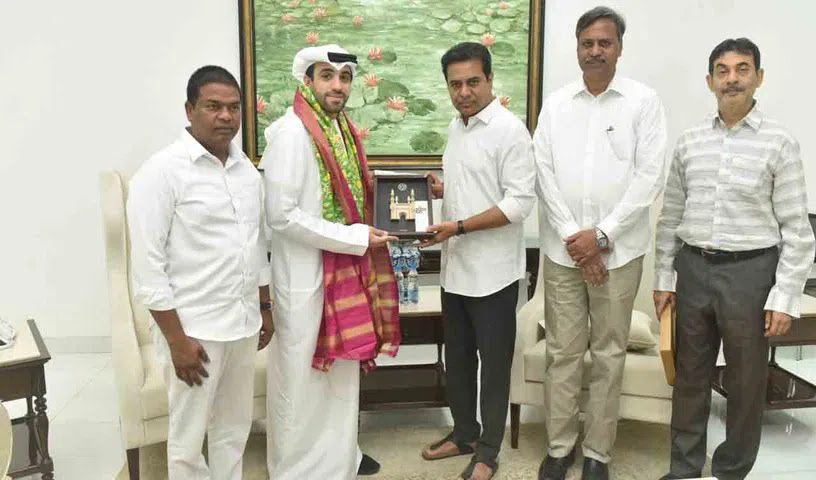 All these details can also be checked with the Indian Embassy and Nepal Embassy, if required.
I appeal you to take up the case, which was eligible for remission, as my personal request with the Dubai Prince and ensure he responds positively," Rama Rao told the UAE Ambassador.
During the meeting, the UAE Ambassador complimented the Telangana government for the infrastructure development works being taken up in Hyderabad, which was now competing with international cities. He also specifically mentioned the robust startup ecosystem, IT and ITES sector in Telangana. In reply, the Minister briefed him about the investment opportunities in different sectors and the State government's industrial policies.
"Already, venture capitalists from have come forward to work with startups and to be part of the innovation ecosystem in Hyderabad. I appeal you to introduce the UAE-based venture capitalists to T-Hub," he said.
As per the UAE's Sharia Law, the family of the deceased had agreed to accept a compensation of Rs 15 lakh. In 2013, the Minister had personally visited Nepal and met the family members of the deceased.
As per the provisions of Diyah under the Sharia Law, if the family members of the deceased accept the blood money and issue a letter of consent to pardon the accused, there was scope to release the five Telangana NRIs, he said.
To this effect, in 2013 all the necessary documents from the family members of the deceased were presented to the Dubai government, the Minister informed, adding that the issue was taken up with the Indian Embassy and UAE Embassy by him personally several times.
"However, the UAE Court rejected the mercy petition filed by the Telangana NRIs. They can be released only after Dubai prince Mohammed Bin Rashid Al Maktoum grants them pardon," Rama Rao said.
KT Rama Rao appealed to the United Arab Emirates government to release five Telangana NRIs, who were imprisoned in Dubai in connection with the death of a Nepal citizen, Dil Prasad Roy, in 2005.
The Minister met UAE Ambassador Abdul Nasser Al Shaali at Pragathi Bhavan here on Monday and shared the case details.
Residents of Rajanna Sircilla – Shivaratri Mallesh, Shivaratri Ravi, Nampally Venkat, Dandugula Laxman and Shivaratri Hanumanthu were imprisoned in Dubai.