The Turkey's Erdogan seals deal on Finland joining Nato.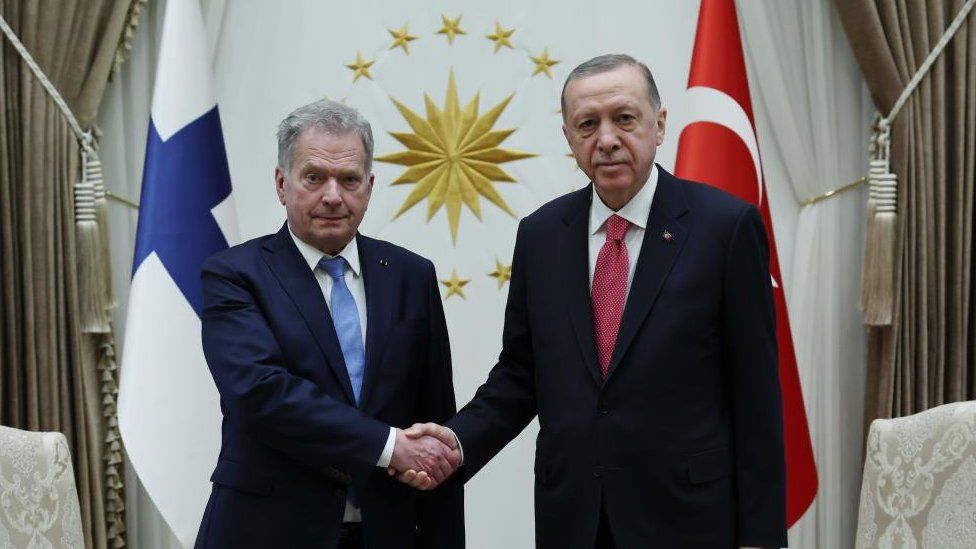 Prime Minister Sanna Marin said this week that if Finland did join ahead of Sweden then Helsinki would do all it could to ensure its Nordic ally became a Nato member as soon as possible.

Since Russia's invasion began in February 2022, Finland has sought to strengthen its eastern border, which at 1,340km (832 miles) is the longest border with Russia in the European Union. It has begun building a 200km fence on the border to beef up security.

Finland and Sweden have both been official Nato partners since 1994 and have taken part in Nato missions since the Cold War.

Finland has a smaller population than Sweden of 5.5 million, but it has a well-funded defense with a military force of 280,000 and another 870,000 reservists.

Sweden has in recent decades spent less on defense, but has aimed to reach Nato's target of 2% of its economic output by 2026, with conscript numbers of 24,000 in 2025 and 50,000 in 2035.

Last month, Sweden's military intelligence and security service (Must) said the security threat was the most serious since the start of the 1980s and there was a tangible military threat from Russia.

The head of Must, Lina Hallin, said Russia's military currently had limited capabilities towards Sweden's immediate area but it would be able to learn lessons from the Ukraine war and strengthen its military presence.
Finland and Sweden abandoned their traditional military neutrality in response to Russia's full-scale invasion of Ukraine, and both still aim to be part of Nato in time for a July summit in Lithuania. But any new member has to secure the approval of all 30 Nato members.

Turkey is facing presidential and parliamentary elections on 14 May. Assuming the parliament ratifies Finland's accession beforehand, the government in Helsinki still has to secure the support of Hungary.

However, Hungary's ruling Fidesz party said on Friday that a vote would take place in parliament in Budapest on 27 March and that it would vote yes. A leading party figure said a decision on Sweden would take place "later".

Niinisto told reporters as he stood alongside the Turkish leader that the process of joining the alliance would "not be complete without Sweden" and he hoped to see both countries in Nato in time for the Vilnius summit.

Sweden's talks with Turkey were put on hold for several weeks recently, after a Koran was burnt outside the Turkish embassy in Stockholm by a far-right Danish politician, who has denied links to Russian extremists.

President Erdogan said that Sweden's prime minister, Ulf Kristersson, was a "nice person" but Ankara had asked his government to extradite 120 figures who had yet been sent to Turkey.
President Erdogan's hostility to Sweden was clear during a press conference with Niinisto. He told reporters in Ankara that Sweden had embraced Kurdish militants, labelling them "terrorists".
He complained that Kurdish militant demonstrations had been allowed on the streets of Stockholm.Finland applied with Sweden to join the West's defensive alliance last May.
But Sweden's bid has become held up by Turkish objections and Finland decided to push ahead alone.The Finnish leader said it was very good to hear Erdogan's decision.
The blue carpet was rolled out for Sauli Niinisto as he arrived at the presidential palace in pouring rain.Praising Finland's "authentic and concrete steps" on Turkish security, he said a vote would go to parliament.